What are the safest toys for puppies?
Puppies are highly energetic and curious little furballs, and with all that curiosity and energy, there is a risk that your new puppy may sink his tiny, razor-sharp teeth into something that is not entirely safe for him.
It is perfectly natural for your puppy to have an affinity for chewing. It is a lot of fun for him, and in addition, it helps him keep his teeth clean and build strong jaws. When your puppy is teething, chewing helps him to make his gums feel better. With all the advantages chewing offers your puppy, it is best to find chew toys that are safe for your puppy, and so, we put together a guide to help you determine the safest toys for your puppy.
What kind of chewer is your puppy?
The first step to determine the safety of dog toys for your puppy is to determine what type of chewer your pup is. Here are the three main classifications:
1.   Gentle Chewers:
These are puppies that treat their toys gently. They never attempt to destroy any toy placed in front of them. They savor their food and are gentle with their toys.
2.   Intermediate Chewers:
These puppies see a toy and think it is their mission to destroy it. With a pup like this, you will often find the innards of your dog's toys all over your house.
3.   Aggressive Chewers:
These types of pups think everything should be scoffed down. They may swallow chunks from toys if they get the chance. If this type of toy can fit a toy in his mouth, the toy is as good as gone.
Determining Puppy Toy Safety
If you are looking for a toy for your pup, the first thing to consider is the safety of the toy for your pup. A quick way to do this is to check how sturdy the toy is. Check by trying to indent the toy with your thumbnail. If you can easily break it or indent it with your thumbnail, it means the dog is not too hard for your puppy's teeth and may be damaged by your puppy's teeth, and therefore unsafe for your puppy. It is important to note that toy safety for your pups goes beyond simply checking the durability of the toys.
Typically, toys that fall in the category below are considered safe for your puppy:
Active Toys For Puppies
These toys are suitable for puppies that enjoy a game of tug of war and are curious enough to chew on interesting objects. Toys such as tennis balls are great for playing a  game of fetch.
Aggressive chewers can use these toys; however, you need to keep a close eye on your pup if he is an aggressive chewer. Aggressive chewers can shred and swallow pieces on the tennis ball. Other pups would enjoy playing with a tennis ball without attempting to tear it up.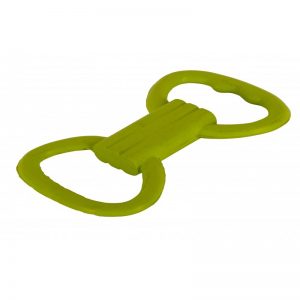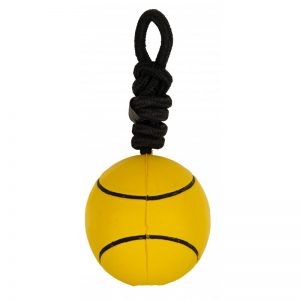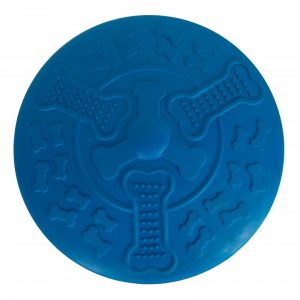 Firm Rubber Puppy Toys
Hollow rubber dog toys, firm to the touch are also great for holding treats, and they work well for any puppy regardless of how aggressively they chew. However, be sure to check the size of the toy and ensure that it matches your puppy's mouth. You can fill these interactive dog toys up with broken-up treats and peanut butter (if your vet says it is safe) and it can keep your dog busy for hours.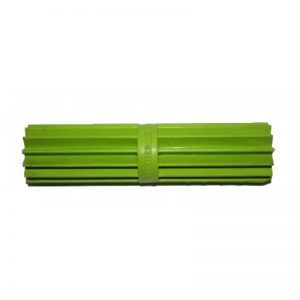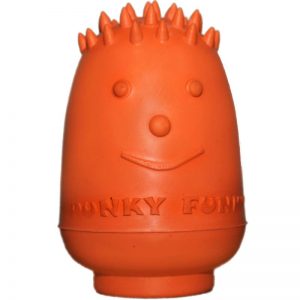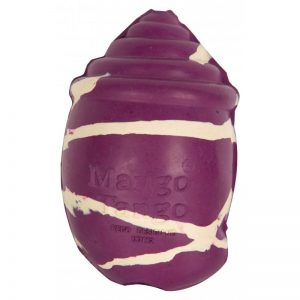 Durable Stuffed Toys For Puppies
Stuffed dog toys come in different shapes and sizes and are fine for most puppies, provided that they are not aggressive chewers. Gentle chewers can be given small stuffed dog toys that they can carry around. However, intermediate chewers should be given larger stuffed toys that they cannot easily carry around in their mouths. Aggressive chewers should not be given stuffed dog toys. Also, do not give your pup any stuffed toy with parts that could easily come off, like ribbons, eyes, or bells.
Some dogs see the stuffed dog toys as companions, if you have a pup with this character, you can pick a small stuffed dog toy that he can carry around. However, if a stuffed dog toy triggers your pup's prey drive, it is better to choose one that is sturdy enough to withstand your pup's attack and large enough to avoid any accidental swallowing.
Note that your pup will find your dirty laundry, including your old t-shirt, towel, pillowcase, or blanket comforting because they carry your scent. However, excessive fluffing, carrying, and nosing could destroy any of these items.
If you want your pup to find his stuffed dog toy comforting, consider sleeping with the stuffed toy, using it as a pillow, or keeping it with your dirty laundry until it carries your scent before giving it to your puppy.
Puppy Rope Toys
Rope toys are considered safe, in that they are durable and sturdy. However, pay close attention to ensure that your pup is not pulling out and swallowing strings.
These are the typical dog chew toys that are considered safe for your puppy, depending on his affinity for chewing.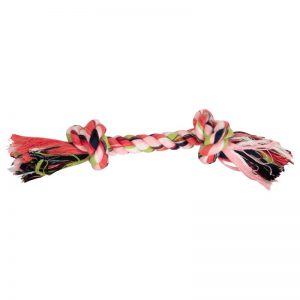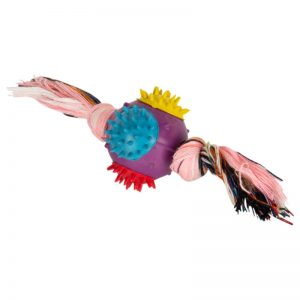 Avoid These Puppy Chew Toys
Any chew toy that is harder than your dog's tooth can damage your dog's tooth, causing dental complications and expensive treatments. As such, avoid the following chew toys:
Deer and elk antlers
Bones
Cow hooves.
Oddly enough, dogs find the most dangerous things attractive, as such, dog-proofing your home is non-negotiable. You must remove objects like strings, ribbons, children's toys, pantyhose, rubber bands, and other inedible items that your puppy may chew and swallow.
In addition to ensuring that your house is puppy-proof, when selecting rubber dog toys for your puppy, consider the size of the toy. Small rubber dog toys, especially if you have a large breed puppy, are easily swallowed. Ensure that your dog toy cannot fit easily in your puppy's mouth.
If your pup is to play with a squeaky toy, be sure that you are close by and supervising him as he plays with the squeaky toy.  Squeaky toys tend to sound like small prey, and your pup's prey drive could make him seek out and destroy the source of the squeaky sound. Hence, you should pay close attention to ensure that your pup does not rip the toy and swallow a part of it.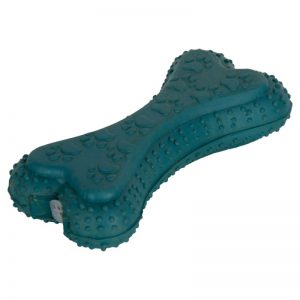 If you notice that your dog's toy is becoming damaged, torn, or broken, discard them immediately. If you are going to give a stuffed dog toy to your dog, be sure to verify that the filling is safe for your dog. If a stuffed toy is filled with nutshells or polystyrene beads, the toy's filling is not safe for your puppy. However, even if a stuffed dog toy is safe for your dog, it is important to note that the toy is not indestructible. However, some stuffed dog toys are sturdier than others. Ensure that the stuffed dog toy you get for your dog is machine-washable.
If you prefer to give your dog a dog toy made of rawhide to chew, consult your veterinarian about which rawhide toys are appropriate and safe for your puppy. Rawhide toys are to be given to your pup with close supervision as they can easily pose choking hazards. Also, note that a lot of rawhides are byproducts of the cruel international fur trade. If you are against the cruel international fur trade and you want to opt for a more humane alternative, you might want to consider rubber dog toys; these are not only more durable, they also last longer.