Dog Rubber Toys With Rope Online at Best Price in India
You love your puppy and want to buy the best products and services for him. You want him to be happy and playful and this is the reason you buy so many toys for him. Have you heard about a special category of dog toys called Dog Rubber toys with rope? Dogs find these toys very interesting and play with them for a long time. Dog Rubber toys with rope are chewable and allow dogs to get rid of food particles stuck in between their teeth.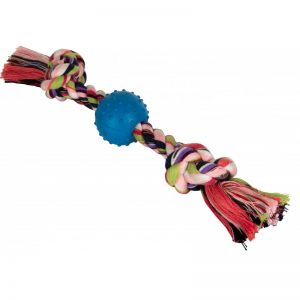 There are all kinds of dog toys available in shops and also on the web. But Dog Rubber toys with rope have become very popular among dog owners these days. There are many reasons behind this popularity. Not only do dogs find Dog Rubber toys with rope interesting and exciting and play with them for a long time but they also serve many important purposes. Love'N Care rope toys are the most loved toys in this category. These toys are not only beautiful and sturdy but also keep dogs busy for a very long time.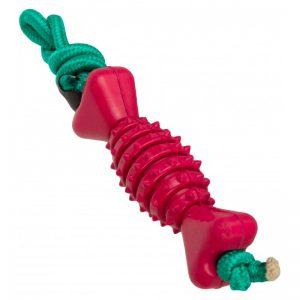 Dog Rubber toys with rope have threads over them to make them very interesting for dogs. Dogs bite on these threads which help in removing the food particles stuck on their gums and teeth. These threads work just like floss. As such, these toys help in keeping the teeth of your dog clean. Also, Dog Rubber toys with rope help in massaging the teeth and gums of your dog. If you have a small puppy at home, these toys will help in getting rid of all the pain and anxiety associated with growing teeth.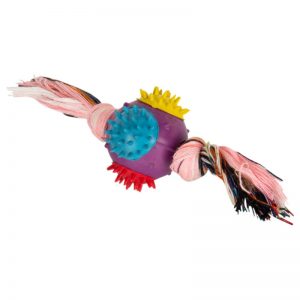 If your puppy loves to chew on anything given to him, you must buy a Love'N Care rope toy for him. By playing with such a toy, your dog will remain happy and excited. He will also get his teeth and gums massaged. These toys are high in quality and do not come apart from the chewing of your dog. Dogs love to chase a rope toy and return it to their owner. Fetching a rope toy is much easier than a ball as dogs finds it easy to chew and hold on to the threads of a dog rope toy.
Look no further than a dog rope toy if you are on the lookout for a beautiful and also highly functional toy for your dog. Your dog will not only feel happy and excited playing with such toys but also attain much better oral health.